Always questing for new ways to save a buck, I bought one of those inexpensive (read "cheap"!) generic diamond sharpening stones.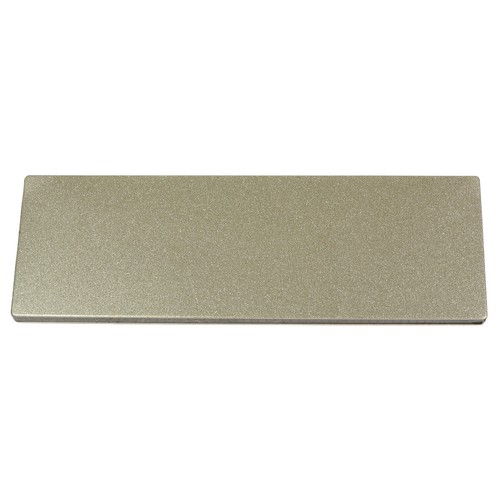 You can buy your own
here
, for the princely sum of $4.69 free shipping and all. The price on these types of products jump all over the place. I bought mine about 3 months ago, from the same vendor, and only paid $3.70 shipped. Talk about a low profit margin!
So, what do you get for the equivalent of a decent latte? The stone measures 6" x 2", #300 grit on one side, #600 grit on the other and is actually two thin electro-plated sheets stuck to a 1/4" thick plastic spacer.
I've already used it a bit, so it's looking rather dirty already. It works just fine. As to be expected for less than $5, the quality is a bit questionable.
It is NOT flat.
The plastic core readily deforms using a moderate amount of finger pressure. A precision tool it ain't.
I plan to mount the diamond plates to a different substrate, if I can separate them from the plastic core without damaging them too severely.
REALLY simple! Just a little bit of heat from the heat gun caused the plastic core to bow upward...... It turns out that the sheets are just tacked on using a bit of thermoplastic adhesive.
No prying required, so no damage! When the core bowed, the diamond plate practically jumped off all on its own. In the amount of time that it took to grab the camera, the bowing had subsided a bit, but it was fairly dramatic.
The other side was just as accommodating.
So for less than $5, I've now got two surprisingly flat pieces of diamond coated steel. The plates are die-cut/sheared, so there is a touch of edge deformation, but very slight and only towards the back or uncoated side. A few swipes of a file on the back face and they're nearly perfect.
Now...... What should I mount them to?
In the meantime, I put them back to work, using them to flatten the bevel on a Japanese carpenter's hatchet. I had thought that this blade would be laminated, as so many of the Japanese tools are, but this appears to be of a solid steel construction. It grinds like a laminated blade though, sending lots of sparks when grinding the edge, but very little when working the deeper bevel. I wiped the bevel with some vinegar looking for an obscured lamination line, but no miraculous revelations were forthcoming. I also tried phosphoric acid and ferric chloride, but no love there either.
Something about this steel REALLY tore up the diamond stones, and not just these, but two other diamond stones as well. The hatchet blade has a very hard edge, too hard to file, but still wanted to load up the stone, causing galling of both the blade AND the stones. It felt like it was dragging the diamonds off of the electroplated surface. Very annoying, and I'm glad that I didn't use my good Eze-lap stones or, god forbid, a DMT stone. This hatchet would've eaten a DMT. Expensive!
As is clear in the photo, these plates will readily rust (I forgot them outside overnight.... Oops!), so they should be dried after use. Or use WD-40 instead of water as the lubricant. Just to be clear, this blade was hard on my other diamond stones too, not just these ones. The picture makes them look awful, but the damage wasn't actually that bad, just a handful of scratches.
I mounted the head of the hatchet at a slight angle, to give better knuckle clearance.
I've had hewing on the mind lately. I made an embarrassingly ugly splitting knife, to be used for making fan birds, obviously just a cheap kitchen knife reground to a single bevel.
Break off the pointy end and mount a second handle, lash everything together, and call it good (enough). The thin blade does an excellent job of cleaving the wood fibers. With patience (and good eyesight!), a 0.25mm thickness is no trouble.
There is another cheap Chinese diamond stone that I've got my eye on......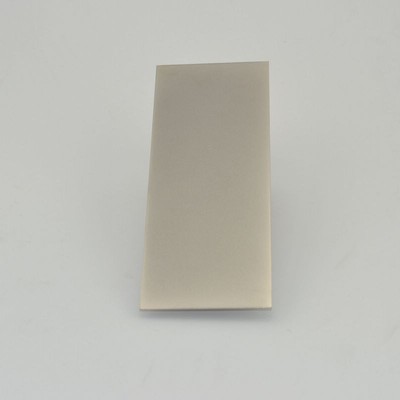 These
are a healthy 200 x 80 x 1 mm, so about 8" x 3"....Big! The same size as the Eze-lap, they have a number of different grits to choose from, and under $20 delivered. Glue it to a stable substrate and we might have something good here. I wonder how substantial the electroplated coating is?
The Tsuboman Atoma diamond sharpening stones are a thin plate stuck to a machined aluminum substrate. Wouldn't it be nice if if we could make a home-brew version for less than $20?